JOIN THE COMMUNITY!
Together.eu is a community of people who believe in democracy and who want to give it real meaning as the next European elections approach. It connects people from across Europe to meet, share knowledge and learn new skills, all while encouraging others to vote in 2024. Sign up here to get involved - the more people vote, the stronger our democracy becomes!
together.eu: Democracy is what makes us
Our Youth and Learning offer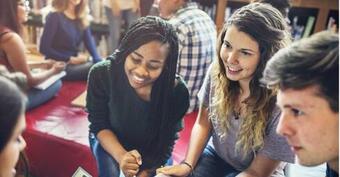 We offer free learning opportunities and resources to UK students, with the aim to encourage democratic participation, civic education, bring European democracy and culture into the classroom, empower students with new skillsets and a better understating of international politics shaping our world.
The European Parliament Ambassador Schools programme in the United Kingdom
Based in London, our job is to raise awareness of the European Parliament – how it works and what it does within the EU institutions.
Our main tasks are to:
Perform a liaison function for the EP with the Westminster and devolved parliaments. We help organize high-level visits by delegations of MEPs to the UK, and we follow the work of relevant British parliamentary committees
Engage with the public and civil society. We hold events, bringing stakeholders and the public together with politicians, academics and think-tanks. We also offer presentations and talks to universities and interest groups on the role of the EP
Be a contact point for EU nationals resident in the UK, providing them with information about the European Parliament and encouraging them to vote in the five-yearly EP elections
Hold cultural events to showcase the talent of artists from or interested in the EU
Do youth outreach. We work with schools, teachers and anyone interested in active citizenship to encourage higher levels of knowledge about the institution and the EU generally
Work with the media. We keep them updated with stories from Brussels and Strasbourg, answer queries, hold press briefings and offer journalists the chance to visit the EP. We also correct lies and fake news, and have an active social media presence
Forge links with trade bodies, professions, business, academia, NGOs and anyone else with an interest in European affairs and the role of the EP.
Who's Who at the UK Office?
Susanne Oberhauser - Head of UK Office
Sanna Kangasharju - Governmental and parliamentary liaison
Typhaine Morillon - Public relations, outreach to EU citizens and press
Anna Huth - Public relations, youth and cultural outreach
Fabia Jones - Parliamentary research, think tanks and cooperation with universities
Nicola Scarfato - Legal advisor, statutory questions and legislative matters
Eva Bese-Gal - Youth and cultural outreach
Branko Jovin - Administrative coordinator
Martina Klugova - Communication and outreach
Egle Puleikyte - Finance, budget and procurement