MEPs visited Northern Ireland to discuss international trade
A delegation of five MEPs from the International Trade Committee of the European Parliament visited Ireland and Northern Ireland on 12-13 October 2023.
The delegation started its visit in Dublin, where the MEPs held discussions with Irish authorities and business representatives. The main aim of the visit was to hear views on the implementation of the Windsor Framework, agreed between the EU and UK in February 2023. In Northern Ireland, the MEPs met representatives of the academia, civic society organisations and businesses, as well as the Speaker of the Northern Ireland Assembly, leaders of political parties and EU officials.
Ahead of the visit, Committee Chair Bernd Lange said, "I am very pleased that already after one year we are returning to Northern Ireland to see how things have changed after the Windsor Framework and the start of new era of cooperation between the EU and the UK. We would like to see how the new arrangements work in real life and therefore we welcome the opportunity to talk to a wide range of actors on the ground. As we are currently working on the implementation reports of the EU-UK Trade and Cooperation Agreement these impressions and information provide important input for our parliamentary work. The focus must always be on the people and on resolving their practical problems".
These MEPs took part in the delegation: Chair Bernd Lange (S&D, DE), Jörgen Warborn (EPP, SE) , Pedro Silva Pereira (S&D, PT) , Barry Andrews (Renew, IE) , and Heidi Hautala (Greens/EFA, FI) .
The EP Liaison Office in the UK helped to do the programme for the visiting MEPs and took part in the visit.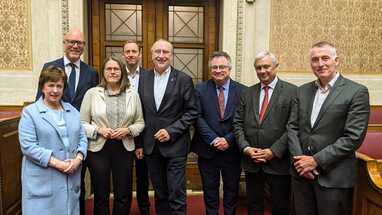 ---
Background
In December 2020, the EU and UK signed the EU–UK Trade and Cooperation Agreement, a free trade agreement setting out preferential arrangements in areas such as trade in goods and in services, digital trade, intellectual property, public procurement, aviation and road transport, among others. The Committee on Foreign Affairs and the Committee on International Trade are preparing a joint implementation report on the EU-UK Trade and Cooperation Agreement. In February 2023, the EU and the UK reached a political agreement on the practical challenges of implementing the Protocol on Ireland and Northern Ireland under the EU-UK Withdrawal Agreement. The Windsor Framework sets out a comprehensive set of joint solutions aimed helping citizens and businesses in Northern Ireland. The Parliament has pledged to thoroughly monitor its implementation.