"What would you take?" exhibition closing event
12 Star Gallery, Europe House, 32 Smith Square, London SW1P 3EU
'WHAT WOULD YOU TAKE?' is an exhibition of photographic and narrative portraits from Ukrainian refugees, the largest displacement of people in Europe since the Second World War. The portraits tell the stories of twelve people from Ukraine who suddenly had to leave their home, taking only the bare essentials and a cherished belonging that speaks to their life.
The closing event of the exhibition starts with a musical contribution from Nataliia Radkova, violinist, followed by the screening of the What Would You Take? documentary (23 min, 2023) directed by Heilika Pikkov and a panel discussion with Kaupo Kikkas, the author and photographer of the exhibition, Olga Malchevska, BBC journalist, moderated by Maria Montague, Deputy Director of the Ukrainian Institute London.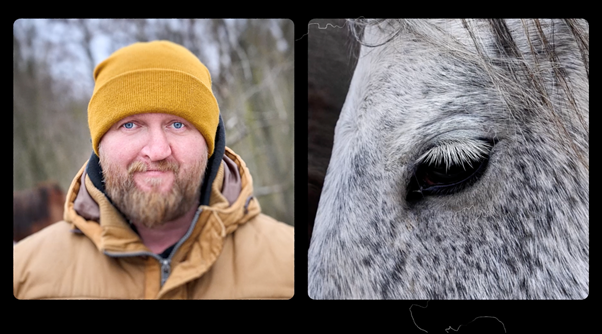 The photographs and interviews of the exhibition and film were taken in December 2022 in Estonia, Latvia, Lithuania, Poland and Ukraine by the authors, Estonian Kaupo Kikkas, photographer and British Frances Stonor Saunders, curator. The film was directed by Heilika Pikkov and produced by Ülo Pikkov / Silmviburlane. The event is co-organised by the European Parliament Liaison Office in the UK and the Ukrainian Institute London, in partnership with the Estonian Embassy.
Biographies
Kaupo Kikkas is an Estonian visual artist and photographer whose body of work often contains recurrent themes of nature and music. His portraiture is described as capturing his subjects with the same melodic and sensitive perspective. His recent exhibition Inner Cosmos premiered in 2022 at the Fotografiska Institute in Tallinn, attracting over 25 000 visitors. His other recent and internationally recognized exhibitions have included Treescape (2016), Ansel (2018), and the multidisciplinary sculpture Sphere-20 (2021). A number of his photographic collections have been published as books, including Ansel (2018), The Story of One Hundred (2018) and Inner Cosmos (2022).
Nataliia Radkova studied at music college in Donetsk, until Russia's war against Ukraine began in 2014, during her second year. She then transferred to continue her studies at the Kharkiv College of Music, separated from her family. Having completed her bachelor's degree in Kharkiv, she entered the Kyiv National Music Academy of Ukraine. Following Russia's full-scale invasion of Ukraine in February 2022, Nataliia left Kyiv, and now lives with her mother in Lithuania where she plays for the National Philharmonic Orchestra. In the exhibition and documentary What Would You Take, Nataliia shares her story being forced to leave her home twice, in 2014 and 2022, but always keeping her violin and her passion for music with her.
Olga Malchevska is a BBC News Channel Broadcast Journalist and Ukrainian reporter. She has been covering the Russian invasion of Ukraine from its start in 2014, including reporting on her own home being bombed after Russia's full-scale invasion of the country in February 2022. In her most recent documentary for BBC, Olga investigated the experience of Ukrainian women fighting in the country's armed services, Ukraine: Women at War. Olga Malchevska received the Honour of Profession Award in Ukraine (Kyiv, 2020) and collected a British Journalism Award for the Public Service on behalf of 100+ UK journalists reporting from Ukraine (London, 2022).
Maria Montague is the Deputy Director of the Ukrainian Institute London. Over the past year she has launched the Ukrainian Institute London's English School for Displaced Ukrainians, produced the UK premiere of Lesia Ukrainka's play Cassandra, and managed a full programme of events aimed at platforming Ukrainian voices and raising awareness about Ukraine's culture, history and ongoing resistance against Russian aggression. Maria previously worked with the Chatham House Ukraine Forum and the LSE Arena programme, which is dedicated to analysing and overcoming polarization and disinformation.